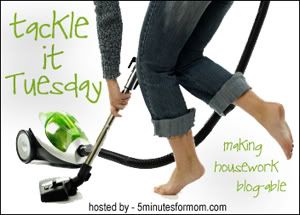 Once again I am following my BFF Peggy in a weekly feature. Today is "Tackle it Tuesday" and the concept is to tackle a project (of any kind) taking before and after pictures and posting it on your blog. Since I have a LOT of projects to tackle it only makes sense to make it blogable.
Today I decided it was past time to repot my plants. Here was the before picture:
Right after I started digging in to the first plant, I realized I did not have a big enough planter for it. The roots were filling the pot it was in and it needed a lot more room and not the little more room I was planning to give it. So, I got into my car and drove to Dollar General which is very close to our house. They had already clearanced their lawn and garden stuff so I went a little further down the road to Family Dollar where I got a couple of large planters and some more potting soil.
I tried to separate one of the plants.
Can you believe ALL of these plants except for the one on the far right came in that littlest yellow and blue pot? It was a Thank You gift from Peggy after the twins were born. I usually don't have luck with plants, but these ones must be hardy! They have survived over a year and grown considerably!
Thanks for Visiting!
~Angel