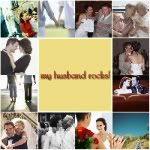 My hubby really does rock! He's the best. I feel bad that I haven't posted this meme in a while. It's not because my hubby isn't wonderful. He is!
For the last several weeks our MHR hostess has been offering a prompt which is sometimes a very helpful start to a post! I've read them each week, but haven't been spending very much time blogging so I didn't participate.

I have decided I am not going to follow this week's prompt. Maybe I'll start that next week. [I really doubt anyone reads this blog anymore anyway so I'm just talking to myself here.]
I've been married to Kevin for over 23 years. It doesn't feel like it though. For most of those years I was such a selfish brat. Kevin loved me through it all. He calls me spoiled. And I tell him it's his fault- he spoiled me. I sure wish I could go back in time and truly show my appreciation for this man who does NOT have a selfish bone in his body. He really would give you the shirt off his back. He's THAT kind of guy!
I was married in December of 1985. I started changing in 2001 when I met my Savior, Jesus Christ. That's 16+ years of selfishness. Selfishness and pride is something I work on daily so it's not gone, by any means. But God is in my heart now and hopefully He shines through me more than the selfish me!
I guess what I am trying to say is my husband rocks because he has stayed in love with me even though I have been so unlovable.
Do you know what he does?
Kevin gets up very early to go to work. Even though I always go to bed at the same time as him, I stay in bed sleeping while he gets ready. Our master bath has only a toilet- the sink portion is sort of part of our bedroom...kinda like a hotel room if that makes sense. He uses only the little bit of light from the bathroom to shave and get ready by so he doesn't bother me (selfish me). He always kisses me good-bye before he leaves.
He knows I wake up very thirsty so he always leaves me a cold water at my bedside. Isn't he sweet???
I think he's the best!