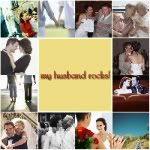 This week, our MHR hostess has offered a prompt for this "My Husband Rocks" Friday. We're to "remember the moment or the circumstances that led to knowing that you were going to marry the man who became your husband."
Whew! THAT was over 23 years ago and I was very young... younger than any of my own children now. But, I do know that Kevin has always been so sweet and kind to me. He has always treated me like a princess and made me feel loved. I don't remember the exact moment I fell in love with him, but it happened very quickly. (We met in July and were married in December.)
I know that I felt protected and safe whenever I was with him. I still do.
Last night after working all day, Kevin came home and went right outdoors and fired up the grill and made dinner for us. He shows me love in so many ways. My husband ROCKS!