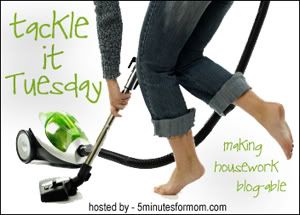 Today's Tackle was my bathrooms!
I got this bottle of CLR in the mail from
"5 Minutes for Mom"
so I could participate in their CLR Edition of Tackle it Tuesday. If nothing else, it was a free bottle of cleaner, right?
I used it on my bathtubs with near success. I say near because my tub has a mean water stain on the bottom and I have worked at it before with not much success. The CLR got rid of quite a bit. And my favorite part of the CLR was how easy it was to just wipe off the grime from the rounded sides of the tub. I usually have to scrub there. Because of my back I don't clean tubs very often! CLR made cleaning easy.
I had already read Peggy's Tackle so knew to wear gloves. And I sure am glad I did. I did all of the cleaning with my right hand and that right glove was horribly stained compared to the left! I'd say it would be pretty hard on your skin!
The smell of this cleaner is different than any other I've experienced. I like it!
Here are my before and after bathroom pics.
Katie's bathroom
BEFORE
AFTER
Couldn't get a good light....argh.
Our Bathroom
BEFORE

AFTER

Our Tub
Before

After
Our vanity area
Before

After
Still waiting for Kevin to hang my pretties, but he did get the curtains hung.
Oh, and I'd definitely recommend CLR!